Ultimate Bra
The champion of 2XU performance support bra solutions, this impressive model for Ultimate Endurance features figure eight support to manage movement in all directions, anti-bounce top panel for added security, slip-free straps for firm fit against the skin and seam-free inner cups to keep the wearer confidently working out in comfort.
The 2XU Support Bra collection is designed to cater to light, medium or high impact activities – we have a solution for every kind of athlete.
The Importance of a Properly Fitting Sports Bra
 Is it common for women to be wearing incorrectly fitted sports bras?
Yes!  Incorrectly fitted sports bras is a common problem that leads to chafing and excess bounce.  Many women often select sports bras based on comfort and softness, however this tends to lead toward styles which aren't supportive enough for them. 
Even A and B cup women require support and less bounce as bounce leads to strain on breasts which can cause permanent damage.
Because there are no muscles in the breast, once your Coopers Ligament is stretched causing breast sag, it's irreversible. A supportive and correctly fitted bra will hold you in place thereby eliminating bounce, rubbing and chafe.
2.     What should women look for in a sports bra to ensure a good fit? Is it strap width, fabric, under band V wire etc.
(This question can be broken down in to small, medium and large breasted sports women)
The most important criteria to achieving optimal fit are the key fit areas; under-bust, upper breast, underarm, and straps.  All areas should be securely supported, yet not constricted.  The wearer must be able to breathe easily during all levels of activity.  
The under-bust should be tight and act as a support for your breast. You should only be able to fit two fingers underneath the under-band.  If there's more space than this or if you can see the back of the bra rising up, it's too big.  Your bra should lightly rest on your skin on your upper bust as this is a common place for chafing.  If you can lean forward and everything stays in place then you've achieved a good upper breast fit.  
All breast tissue should fit inside the bra - especially under the arm.  When running, the underarm should touch fabric not skin to reduce chafe.  Straps should be tightened to minimize bounce. 
For those of C cup sizing or above, padding is required in the straps to prevent from digging in.
3.     How often should sports women check their bra size as this can be effected by many things like weight variations and contraceptive medication? 
To ensure best fit, ladies should get fitted every six months or every time a new sports bra is purchased – whichever comes first.  This will ensure the bra is working at its best and offering top level support. 
4.     How often should women replace their sports bra? 
No sport bra should celebrate a birthday – all are designed to last approximately 25-50 washes depending on how the bra is cared for.  Bras that are used beyond this can start to lose their support as the fabrics age.
The 2XU High Impact Support Bra offers sizing from XS to XL for those with high impact sporting demands. It features an internal support cradle, cushioned shoulder straps, two adjustable back closures + fully adjustable straps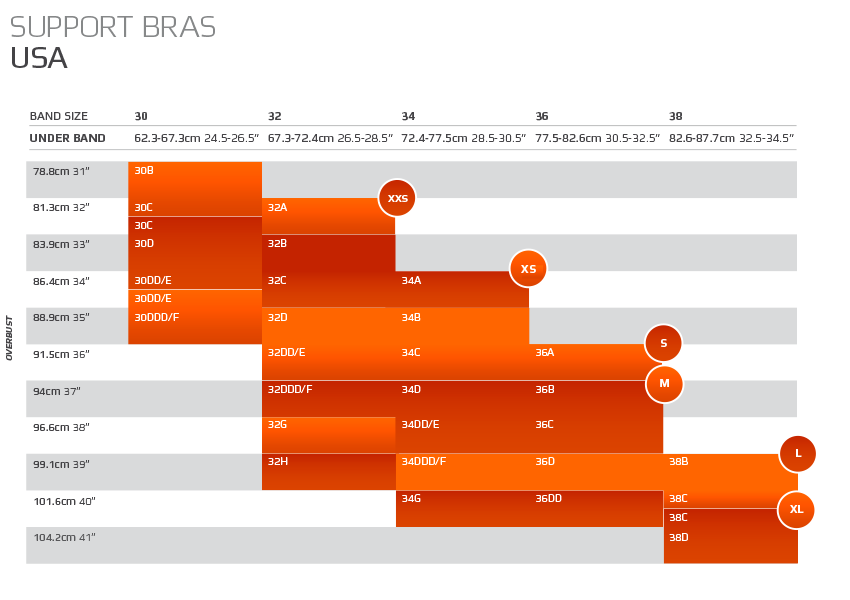 Figure of 8 support
Anti-bounce panel
Slip-free straps
Seamless inner cups
ENDUREX
As smooth as it is strong, 2XU'S ENDUREX is a highly supportive simplex knit fabric to keep the wearer secure and comfortable through all performance demands. ENDUREX moulds to the body to deliver a seamless fit like never before and boasts unparalleled moisture management, abrasion resistance and antibacterial, odour-free performance.
Reviews
There are currently no reviews.