Compression Short
PRODUCT DETAILS
The 2XU Compression Shorts are engineered with powerful PWX FLEX fabric to wrap and support the major muscle groups allowing them to fire more efficiently, while reducing muscle vibration, improving alignment and protecting the muscle from damage and fatigue. The 2XU Compression Shorts are suitable to wear alone or under competition uniforms.
KEY DIFFERENCE
Standard Compression Shorts - PWX FLEX fabric to deliver optimal flexibility and movement to hamstring, abductors + glutes + quads.
Elite Compression Shorts - PWX FLEX fabric combined with PWX WEIGHT fabric in the front and back panels for additional support to the hamstrings, abductors, glutes and quads.
Inseam Measurements
Inseam Measurements
XS
S
M
L
XL

23.8cm

9.4in

24.5cm

9.7in

25.3cm

9.9in

26.0cm

10.2in

26.8cm

10.5in
Delivery Information
Free Shipping Promotion
Receive Free Registered Post (Ground) Shipping within the United States for all online orders over $100.  We reserve the right to end or change this free shipping offer at any time. This promotion does not apply to any 2XU custom products.
Charges
Note: 2XU USA only ships to customers with a billing and shipping address in the United States.
Delivery
Orders are delivered via U.S.P.S., UPS, or Fed Ex and your signature may be required to accept registered goods. Goods will be delivered during normal business hours and can be delivered to P.O. Boxes. Goods delivered within the U.S.A will take three to seven working days.
Note: 2XU takes no responsibility for lost orders if customers provide incorrect address details. 
GARMENT FEATURES
Using PWX FLEX to offer optimal flexibility + movement
High power denier support to hamstrings, quads, abductors + gluts
Reduced muscle fatigue + damage
Suitable for use under uniforms, for training + game day
Flatlock seam construction
UPF50+ sun protection
Antibacterial
Moisture wicking
BENEFITS
Muscle containment – reduced muscle vibration, improved muscle alignment for increased power, protection from muscle damage and fatigue
Reduces effects of DOMS – delayed onset muscle soreness
Heightened proprioception – more alert and agile
How should my 2XU Compression garments fit?
Your 2XU Compression garment should fit the body snugly and firmly without uncomfortably 'cutting in' to the body. If this is the case, you should review your size choice.
For upper body garments, a free range of movement in the shoulders is essential, as is comfort in the underarms.

For specific sizing, please refer to ourᅠSize Chart below, taking into consideration that if you're near the borderline for sizes or you wish to wear your compression garment primarily for recovery purposes, be sure to choose the smaller size where possible.
You will also find some helpful fit-related information in theᅠFAQᅠsection of the website.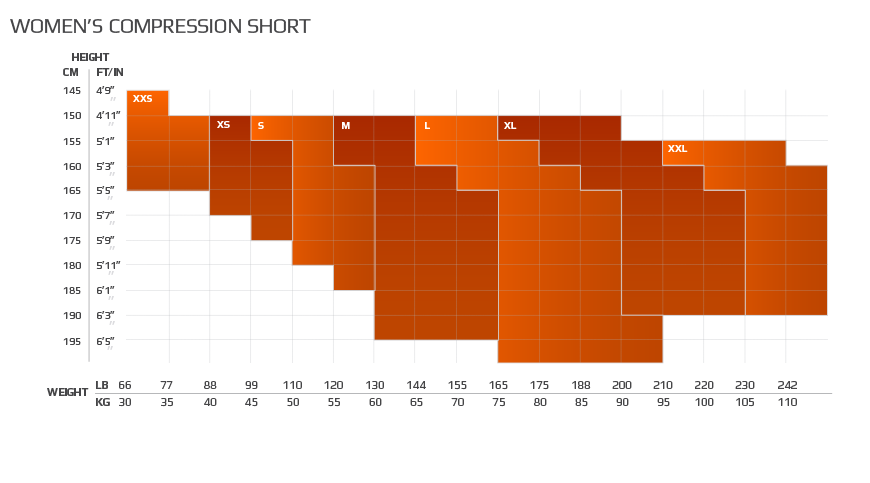 PWX TECHNOLOGY
PWX technology utilises 2 unique fabrics; PWX Compression and 105D/K. Each fabric contains the following product enhancing features:
KEY FEATURES
Superior grade circular knit for 360º stretch + unsurpassed power

Highest grade elastane yarns with invista lycra®

Antibacterial + moisture wicking

UPF 50+ sun protection

Flat Lock stitching for maximum comfort.
Reviews
There are currently no reviews.