Unisex Compression Arm Sleeves
PRODUCT DETAILS
The 2XU Compression Arm Sleeves use PWX POWER Fabric and a graduated compression designed engineered to promote increased circulation, helping reduce pooling and "arm pump" in the forearms, applying an evenly applied pressure to help support the muscles and tendons in the forearm, elbow and bicep.
SOLD IN PAIRS
BENEFITS
Increased circulation
Reduced muscle fatigue, damage & injury
Soft, breathable & moisture wicking
Increased oxygen to muscles
Skin coverage for warmth or UPF sun protection
Faster recovery
Delivery Information
Free Shipping Promotion
Receive Free Registered Post (Ground) Shipping within the United States for all online orders over $100.  We reserve the right to end or change this free shipping offer at any time. This promotion does not apply to any 2XU custom products.
Charges
Note: 2XU USA only ships to customers with a billing and shipping address in the United States.
Delivery
Orders are delivered via U.S.P.S., UPS, or Fed Ex and your signature may be required to accept registered goods. Goods will be delivered during normal business hours and can be delivered to P.O. Boxes. Goods delivered within the U.S.A will take three to seven working days.
Note: 2XU takes no responsibility for lost orders if customers provide incorrect address details. 
Care Instructions
2XU Compression garments require careful washing to protect the fabric and enhance its performance life. All 2XU Compression garments are engineered from powerful, technical and durable fabrics featuring world-class INVISTA LYCRA® fibre.
That said, even world-leading fabrics have product lives. To ensure your 2XU Compression garments deliver optimal performance and durability, we recommend you take the following steps:
Rinse in clean, cold water after a workout or swimming - sweat and chlorine will accelerate the degeneration of elastane
Hand wash in cold water is recommended. If using a machine, select a cold water setting for delicates.
Use a mild detergent - strong detergents can accelerate the degeneration of elastane
Do not bleach
Do not iron
Do not tumble dry
Do not dry in direct sunlight.
GARMENT FEATURES
Highly powerful + durable fabrication
Moisture management
Graduated compression for extra support + enhanced circulation benefits
Promotes removal of blood lactate from exercising muscles for faster repair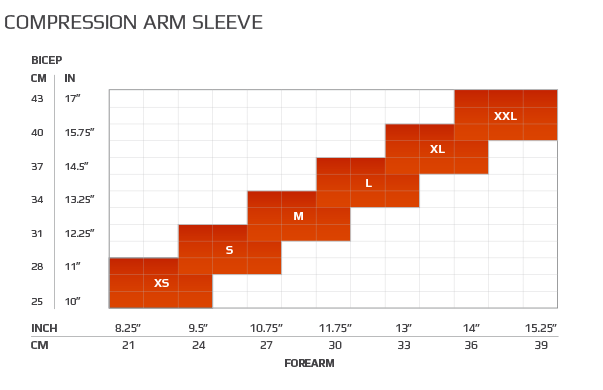 NOTE: Measurements for the arm sleeves should be taken in a
relaxed state at the largest girth of the bicep and the forearm. If your
measurements of two different points for a garment do not correlate
for one particular size, first try the size recommended by your forearm
measurement.
PWX TECHNOLOGY
PWX technology utilises 2 unique fabrics; PWX Compression and 105D/K. Each fabric contains the following product enhancing features:
KEY FEATURES
Superior grade circular knit for 360º stretch + unsurpassed power

Highest grade elastane yarns with invista lycra®

Antibacterial + moisture wicking

UPF 50+ sun protection

Flat Lock stitching for maximum comfort.