Compression Performance Run Sock
PRODUCT DETAILS
Introducing the new 2XU Compression Performance Run Sock - the lightest, most breathable compression sock in the market. Featuring zoned breathability panels for maximum airflow and comfort. Seamless, gradient zoned compression panels for increased blood flow and maximum muscle containment for increased performance and enhanced recovery times. Powerful yet super lightweight. Proprietary knit structure with highly breathable panels for increased airflow and moisture management. Graduated compression to promote increased circulation during activity and recovery through proprietary Compression Fit Technology and knit structure.
KEY DIFFERENCE
Delivery Information
Free Shipping Promotion
Receive Free Registered Post (Ground) Shipping within the United States for all online orders over $100.  We reserve the right to end or change this free shipping offer at any time. This promotion does not apply to any 2XU custom products.
Charges
Note: 2XU USA only ships to customers with a billing and shipping address in the United States.
Delivery
Orders are delivered via U.S.P.S., UPS, or Fed Ex and your signature may be required to accept registered goods. Goods will be delivered during normal business hours and can be delivered to P.O. Boxes. Goods delivered within the U.S.A will take three to seven working days.
Note: 2XU takes no responsibility for lost orders if customers provide incorrect address details. 
GARMENT FEATURES
Engineered fabric and knit structure for multiple, zoned functionality: graduated fit, consistent pressure zone and muscle containment.
Powerful zoned high compression panel wraps around the ankle to create a peak pressure zone to ensure maximum venous return and better circulation.
Lightweight zoned breathability panel surrounds the shin and calf to create a gradient but consistent pressure at the calf while high denier yarns in back ensure maximum muscle stabilization.
Flexible tongue zone – minimal fabric at the top of the ankle provides a flexible at juncture with shoe tongue and eliminates pressure points
Engineered foot bed and heel provides optimal support for arch and achilles, while zoned padding to heel, balls of the feet and toe region offers maximum comfort.
Linked toe cage for extra comfort and longer wear.
Vented toe panel for maximum toe and foot bed breathability.


BENEFITS
Increased circulation
Minimize shin splints
Reduced muscle fatigue, damage & injury
Increased oxygen to muscles
Stronger performance for longer durations
Improved race times
Faster recovery
How should my 2XU Compression garments fit?
Your 2XU Compression garment should fit the body snugly and firmly without uncomfortably 'cutting in' to the body. If this is the case, you should review your size choice.
For upper body garments, a free range of movement in the shoulders is essential, as is comfort in the underarms.
For specific sizing, please refer to our Size Chart, taking into consideration that if you're near the borderline for sizes or you wish to wear your compression garment primarily for recovery purposes, be sure to choose the smaller size where possible.
You will also find some helpful fit-related information in the FAQ section of the website.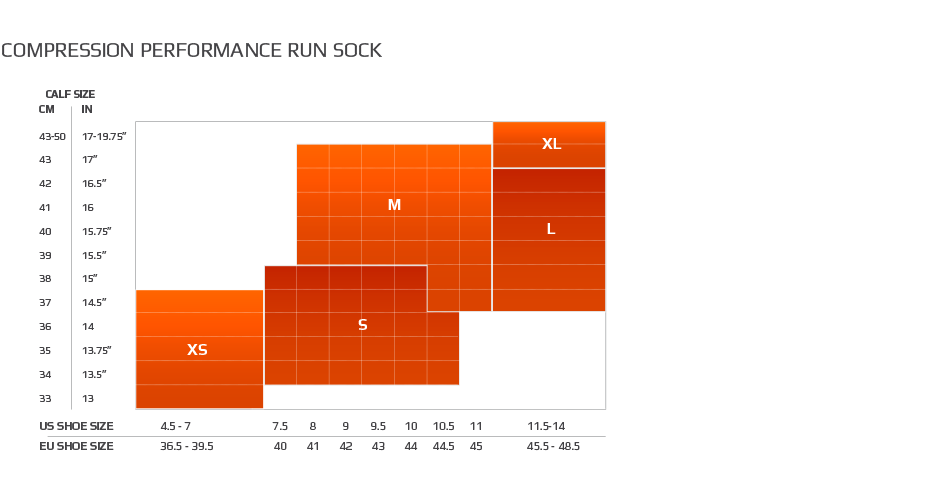 NOTE: When considering your appropriate size for compression socks please size as per your calf girth.
Sizes shown are offered as a recommendation should you not know your calf girth or require additional information.
PWX TECHNOLOGY
PWX technology utilises 2 unique fabrics; PWX Compression and 105D/K. Each fabric contains the following product enhancing features:
KEY FEATURES
Superior grade circular knit for 360º stretch + unsurpassed power

Highest grade elastane yarns with invista lycra®

Antibacterial + moisture wicking

UPF 50+ sun protection

Flat Lock stitching for maximum comfort.
Reviews
There are currently no reviews.